Our Programs department provides support to our table partners, with a focus on voter registration and quality control. Our team provides training, resource documents, workgroup facilitation, and quality control assistance, as well as facilitating strategic planning for partnership collaborations. The department also advises on workgroups related to key priorities our partners are advocating for. These workgroups meet frequently throughout the month to provide real-time updates on Florida election changes and much more.
Our partners' work includes voting rights, election administration, COVID-19 awareness, Florida ID card requests, defense of reproductive rights, fighting for racial equity, climate, and more.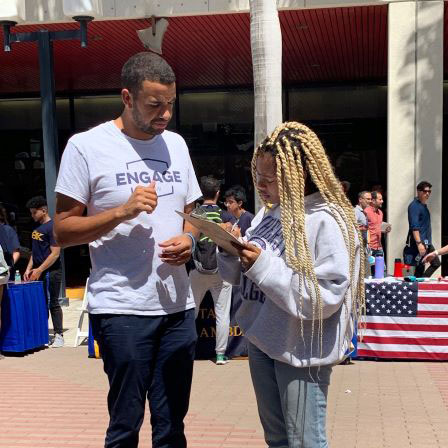 We offer our partners a variety of tools to support our shared efforts:
Data tools:
Access to a c3 VAN committee and VAN support
EveryAction
FreshDesk
Communications tools:
ThruText
ThruTalk
Spoke
Meltwater
Quality control tools:
Programs Department Partner Support:
Training
Resource Documents
Workgroup Facilitation
Quality Control Assistance
Partnership Collaboration
Strategic Planning Facilitation
Training

for Table Partners
Guidance on compliance with voting laws in Florida like SB 90.
THIRD-PARTY
VOTER REGISTRATION

& C3 COMPLIANCE
Education on staying non-partisan and (c)3 do's and dont's.
WEEKLY PROGRESS

1:1 CHECK-IN
Weekly check-ins to improve progress tracking.
Voter registration scripts, mitigating risks, red flags, and best practices.
Best practices regarding telephone and phone banking scripts.
Voter registration data management and training, resolving flagged registrations and coordinating resource documents.
Workgroups

for Table Partners
SVFL also participates in or co-facilitates several coalition leadership meetings. These meetings are closed workgroups and planning spaces that inform the larger voting rights coalition.
Advocacy

& Civic Engagement
Stay up-to-date on the latest issues and how to engage voters.
Learn how you can help fight to preserve voting rights in Florida.
Learn about Florida's local redistricting process and our fight for fair maps.
Learn how to be an effective poll monitor and run successful voter verification programs.