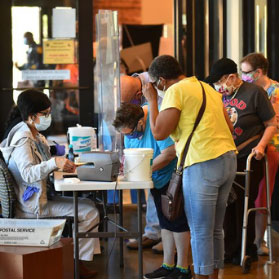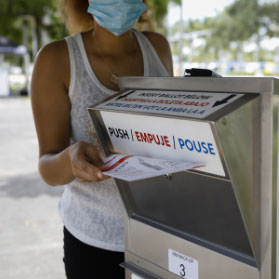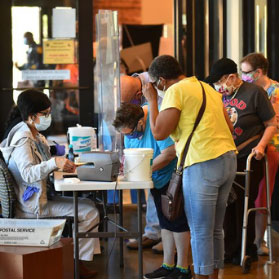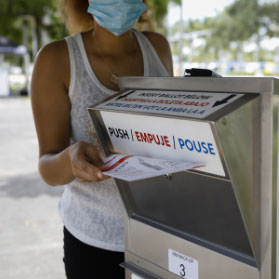 State Voices Florida (SVFL) believes in democracy and racial equity. In order for every Floridian to engage in the democratic process, we support and coordinate the civic engagement work of our partner organizations.
We lead  a coalition of over 100 community-based organizations who work together to educate and empower voters across Florida. SVFL has employed the principles of collective impact to help partner organizations build their capacity through data analysis, shared resources, and amplifying the voices of BIPOC communities.
SVFL provides training programs for organizers, including an organizer school,  and hosts a robust fellowship program that works on building a bench of organizers ready to do the work needed throughout Florida's diverse and marginalized communities.
It's our collective duty to end the systemic, relentless disenfranchisement targeting communities of Black, Latinx, API, Indigenous, and other people of color (BIPOC), women, low-income Floridians, and young Floridians.
State Voices Florida develops the infrastructure, executes the joint strategies, and employs new tools and technology to assure a government that is more responsive to the needs of our constituencies.
We envision a more representative democracy here in Florida, one where communities of color have electoral representation that matches their population in the state, thereby increasing people-centered policies and wins that positively impact these communities. 
Originally envisioned in 2001, State Voices Florida was created to encourage cooperation among nonpartisan civic engagement organizations throughout the state. The "state table" has existed in several iterations throughout the years, but its core purpose remains unchanged to this day.
SVFL believes that centering the leadership, experiences, voice, and votes of Black people, Indigenous people, and other people of color (BIPOC), women, low-income and young people is the path to power and a thriving democracy.
This work requires vision, cooperation, and long-term strategic planning, as the goal of full participation by marginalized communities cannot be achieved through one election cycle, one legislative fight, or one campaign.
Together, partners build the power needed to break down barriers to civic participation, restore confidence in government, engage historically marginalized populations, and recenter public discourse on racial and socioeconomic justice.
Real, lasting change is driven by authentic voices within the communities that our state table serves. As a support organization, State Voices Florida's work centers the experience of activists and organizers around historically underrepresented and marginalized communities to build unified coalitions for progressive victories throughout the Sunshine State.